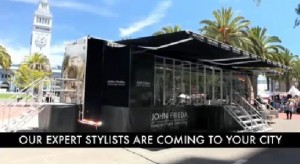 Do you suffer from that infamous summer frizz? With the humidity and swimming in chlorinated pools it can be pretty hard to avoid.
John Frieda Frizz-Ease Hair Care will be traveling across Canada this summer providing style solutions to deal with the summer frizz. Come out for a complimentary hair touch-up & receive product samples tailored to your specific hair needs!
They will be going to Vancouver, Calgary, Edmonton, Toronto, Ottawa, Montreal and Halifax. They came to my city earlier this summer and I was able to check it out. It was a huge hit and they gave me some really great hair tips!
This offer ends on September 9th.
Enjoy!
-Caitlin
More Related Offers: