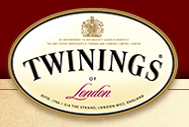 Twinings wants you to hear about their exclusive offers and exciting news that only members will have access to.
What's even better is that every one who signs up for their Tea-Mail will be entered to win a years worth of Twinings Tea!
I have been drinking a lot of tea lately and I love experimenting with different flavours and blends. Whenever I am studying at school tea is my go-to drink. This would keep me updates on the latest in the tea world and I would definitely love that year's supply of tea to keep me stocked during school!
Good Luck!
-Caitlin
More Related Offers: