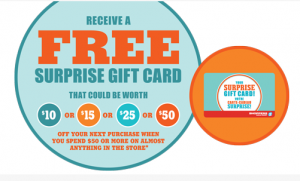 Planning on buying some toothpaste, shampoo or even some milk tomorrow?
Head to Shoppers and spend $50 or more to receive a surprise gift card! The value of the gift card can range from $10, $15, $25 or $50 but you don't find out until your next purchase!
Wouldn't it be nice to win the $50 gift card! It would be like getting the money back that you just spent.
This offer is valid on July 28th only.
Enjoy!
-Caitlin
More Related Offers: