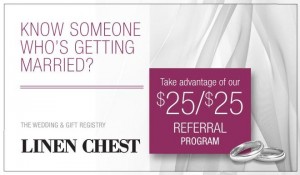 With everything that is involved in wedding planning, something like the wedding registry can easily fall to the wayside.
If you know someone who is getting married refer them to the Linen Chest to create their Wedding Registry and get a $25 gift card each!
Remember the wedding registries are not only for the big day but for bridal showers and other parties that may come up! As a guest having a wedding registry makes shopping much easier.
Speak to your friend and then fill out the referral form! It's a win for everyone! 🙂
Enjoy :),
-Sandra☆
More Related Offers: