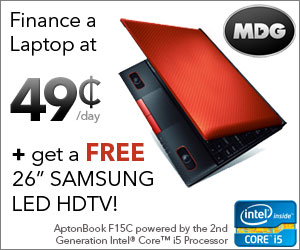 My family's electronics wish list seems never ending. So when I heard about MDG's current promotion, I knew that everyone would be happy!
MDG Canada is offering an amazing deal! They are giving away FREE Samsung LED HDTV's when you finance any product for as little as $0.49 per day!
Get a Tablet, Notebook, HDTV, Camera, Gaming System, Desktop, Blu-Ray Home Theatre, eReader and so much more from brands such as Toshiba, Blackberry, Motorola, Samsung, Acer. LG, Nintendo, Playstation, XBOX, Kobo, and more!
Pricing is $0.49 per day to $1.99 a day. Interest rates are low and everyone is guaranteed to be approved.
Visit their site as there is sure to be something you want, and get a free HDTV while you're at it!
Enjoy :),
-Sandra☆
More Related Offers: