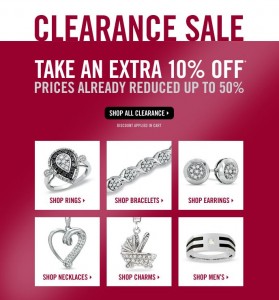 Any excuse to look at diamonds I am there. My fiance says he has met his diamond quota for me for the next year since he gave me my engagement ring (which is gorgeous by the way;) ) but a girl can still look, right?
Right now Peoples is having their Clearance sale where you save up to 50%! Plus for a limited time you can save an ADDITIONAL 10% off the already reduced prices!
So earrings, bracelets, rings, necklaces, now is the time to start shopping ladies!
Enjoy :),
-Sandra☆