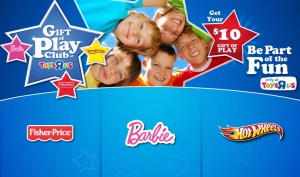 Did you know that Toys"R"Us had a Gift of Play Club? You can join to get all the updates on toys from Barbie, Hot Wheels and Fisher-Price.
I just joined, and as a thank you, I received a coupon so that I can save $10 when I spend $40 or more. So when those birthdays come around, two gifts instead of one is a huge possibility.
The email came within the hour so wait a little while to get your welcome email and coupon info.
Thanks ladies,
-Alyssa

More Related Offers: