This offer has EXPIRED.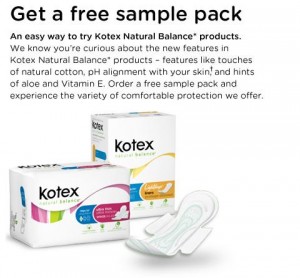 The last time I tried a free sample of pads it completely converted me, so who know's what you may find when you try this free sample from Kotex!
Request a free sample pack that includes 1 Natural Blance Ultra Thin Pad, Regular with Wings and 2 Kotex Natural Balance Lightdays Liners, regular.
These pads have natural cotton, pH alignment with your skin and hints of aloe and Vitamin E!
During "that time of the month" the last thing you want to feel is like you are wearing a diaper, this sounds like it actually could make an uncomfortable experience a little bit better.
*Hint* On the top right side of the page, click on Canadian Samples to request your free sample!
Enjoy :),
-Sandra☆
More Related Offers: