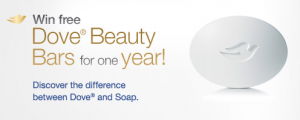 Do you love Dove products? Dove is my go-to product when it comes to soaps and body washes. It's perfect for any skin type and leaves you feeling fresh and ready to conquer the day!
If you want to indulge in your favourite Dove products without paying the price, this contest is for you. Enter now for your chance to win Dove Beauty Bars for an entire year!
Even if you don't win the contest, you can still enjoy your favourite Dove products for less. When you click on the link below, you will also get access to a $2 off coupon for Dove's Beauty Bar and $2 off Dove's Body Wash.
This contest closes on July 30th.
Good Luck!
-Caitlin
More Related Offers: